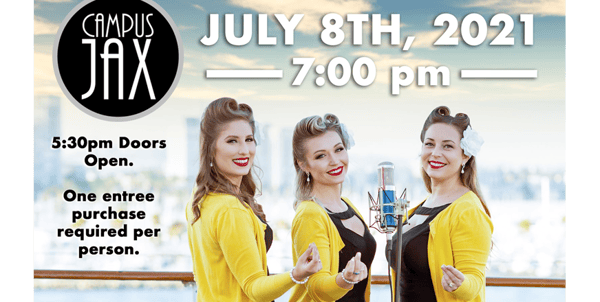 Swing Kittens
The Swing Kittens are an upbeat swing vocal trio hailing from Orange County, California. Comprised of Nicole Kubis, Kaley Griffith, and Nicole Perreira, The Swing Kittens specialize in tight vocal harmonies and give a youthful spin on heartwarming classics from the '40s and '50s. With cheerful choreography and an energetic presence, The Swing Kittens perform favorites by The Andrews Sisters, The McGuire Sisters, and many others from the Golden Era of music. 

Ultra VIP section ($35/person tables for 2 or 4)
VIP section ($25/person tables for 2 or 4; $20 single barstool seats)
General Seating section ($15/person tables for 2 or 4; $15 single barstool seats)
Booths for 4 People $100

7:00pm-8:30pm Show
5:30pm Doors Open
1 entrée purchase required per person

All sales are final, but if for any reason show is canceled all purchases will be refunded.
Must be 21 years old to drink alcoholic beverages.
$20 corkage fee on first bottle, $30 on the second bottle $40 and third etc. (750ml = 1 bottle).
No other outside beverages are allowed.
BUY TICKETS