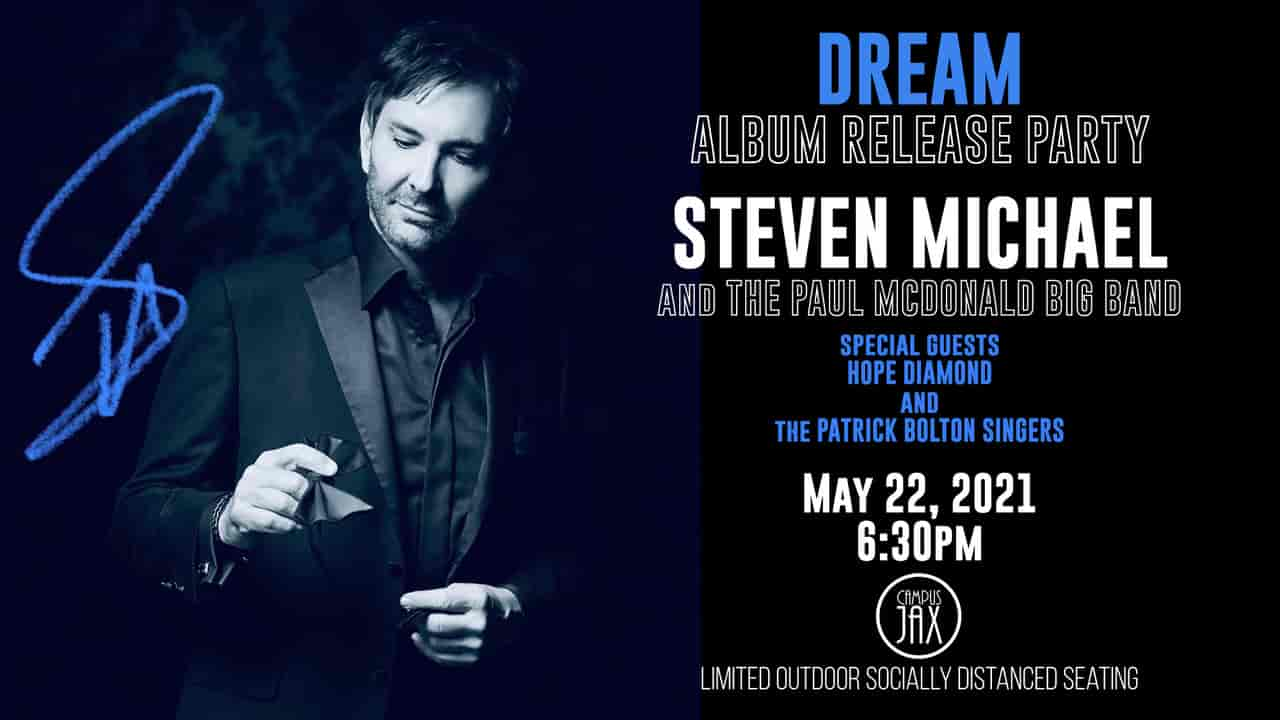 Steven Michael and The Paul McDonald Big Band
Join Steven Michael and The Paul McDonald Big Band to celebrate the release of the new album DREAM. Performing with them as featured on the Album are special guests Hope Diamond and The Patrick Bolton Singers. The "Big Band" will be a smaller socially-distanced version of the album band but will pack equal punch in the elegant Campus JAX all-weather event tent.
Ticketed Ultra VIP patrons will receive a CD of the new album.

The Album features top LA musicians including:
Lee Thornburg – Trumpets
George Thatcher – Trombones
Ido Meshulem – Bass Trombone
Stephanie Stetson -French Horns
Michael Parlett – Saxaphones and woodwinds, EWI, additional percussion, guitar
Alex Jackson - Saxophone
Richard Harris - Percussion
Steve Pemberton – Drums
Tony Moore - Drums
Adam Cohen – Bass
Roberto Vally - Bass
Paul McDonald – Piano, Keyboards
Patrick Bolton - Keyboards
Blake Aaron – Guitar
Ron Hershewe - Guitar
Matt Hornbeck – Guitar
Violins – Johana Krejci

$60/person Ultra VIP Section Tables for 2 or 4
$45/person VIP Section Tables for 2 or 4
$35/person General Seating Tables for 2 or 4
6:30pm-8:00pm Show
5:00pm Doors Open
1 entrée purchase required per person

All sales are final, but if for any reason show is canceled all purchases will be refunded.
All seating is outdoor open air at our special tented outdoor stage dining area. Please dress accordingly.
Social distancing is enforced; masks are required when walking to and from your table or to enter restrooms (only One person is allowed in each restroom at a time).
Must have reserved seating to park.
No dancing at this time, thanks.
Must have valid ID upon entry.
Must be 21 years old to drink alcoholic beverages.
$20 corkage fee on first bottle, $30 on the second bottle $40 and third etc. (750ml = 1 bottle).
No other outside beverages are allowed.
If you are disruptive or do not wish to follow our protocols, you will be asked to leave. Please help us stay open and let's keep everyone safe!
BUY TICKETS