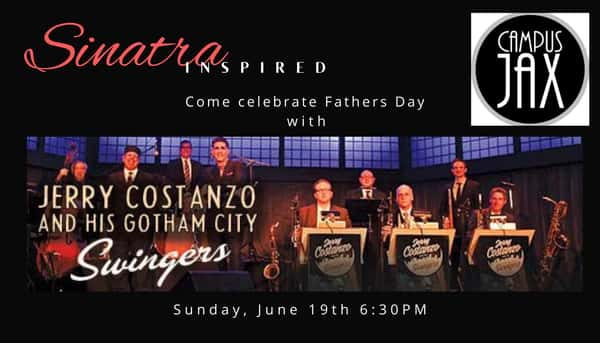 Jerry Costanzo and his Gotham City Swingers Orchestra
Come celebrate Fathers Day with
Jerry Costanzo and his Gotham City Swingers Orchestra

Hailing from NYC (now residing in SoCal) Popular singer, entertainer and bandleader, Jerry Costanzo "…will perform a mix of timeless standards inspired by the great Frank Sinatra, and other crooning legends, including Dean Martin, Sammy Davis Jr, Nat King Cole, Bobby Darin and others." Jerry and his swinging pals pay tribute to the musical heroes who influenced his career. Jerry will be performing signature tunes such as Come Fly With Me, I've Got You Under My Skin, Mack The Knife, as well as original arrangements from his four studio recordings, Destination Moon, Can't We Be Friends, Can I Steal a Little Love and Invitation. Jerry will be accompanied by his All Star, 9-piece Gotham City Swingers Orchestra.

"Make no mistake, Costanzo is not a clone of Sinatra, Cole or any of those icons. Jerry's distinctive voice, unique style and original swinging arrangements breath new life into the invariable American Songbook" - Jazz.com

"Costanzo and his swinging pals know how to grab the Vegas vibe that most of us have heard about but never were old enough to really experience. It's not a time piece, just a good time that doesn't try to recreate, but exist in it's own place bringing some authenticity along for the ride." - Jazz Inside Magazine

So grab your favorite Dad, Daddy or Daddy-O! and lets celebrate with the greatest music of all time!
Reserve your table NOW before it sells out

6:30pm Show
5:00pm Doors Open

Ultra VIP section ($60/person tables for 2 or 4)
VIP section ($45/person tables for 2 or 4; $35 single barstool seats)
General Seating section ($35/person tables for 2 or 4; $20 single barstool seats)
Booths for 4 People $300

1 ENTRÉE PURCHASE PER PERSON IS REQUIRED (a $10 surcharge will be added if no entrée is purchased, there are no drink minimums)
All sales are final, but if for any reason show is canceled all purchases will be refunded.
Must be 21 years old to drink alcoholic beverages.
No outside beverages are allowed. 
BUY TICKETS