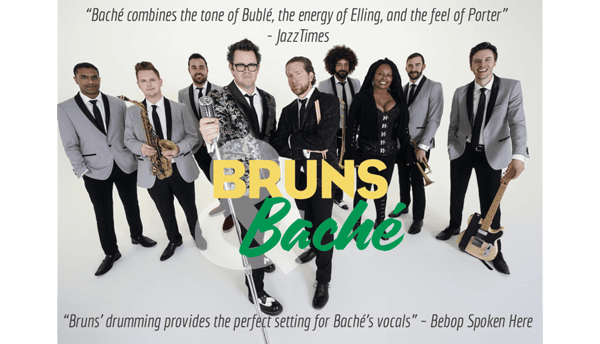 BRUNS & BACHÉ: 9-piece jazz-pop all star band
BRUNS & BACHÉ is a 9-piece jazz-pop band featuring LA's A-list jazz session players. Catchy melodies, driving energy, powerful rock-like lead vocals, tight horns, and soulful backing vocals create a vintage sound that music critics liken to "a modern-day Chicago/Blood Sweat & Tears". Their past two albums were Top-10 charting airing on 300+ radio stations nationwide. Multiple singles received weekly spins on 300+ stations nationwide, including L.A.'s KKJZ 88.1FM. In 2019 they completed their second multi-city Japan Tour and can be heard locally at Los Angeles' top jazz venues.

Musician line-up:
Kevin Baché - lead vocals (Steve Miller)
Amy Keys - backing vocals (Phil Collins)
Mike Cottone - trumpet (Michael Bublé)
Phillip Whack - alto sax (Aretha Franklin)
Ido Meshulam - trombone (Big Phat Band)
Ben Thomas - guitar (Reza Rohani)
Mahesh Balasooriya - piano & keys (Arturo Sandoval)
Emiliano Villarreal - upright bass (Thelonious Monk Institute)
Jason Lee Bruns - drums & percussion (Beck)

6:00pm - 7:30pm Show
5:00pm Doors Open

Ultra VIP section ($35/person tables for 2 or 4)
VIP section ($25/person tables for 2 or 4; $20 single barstool seats)
General Seating section ($15/person tables for 2 or 4; $15 single barstool seats)
Booths for 4 People $160

1 ENTRÉE PURCHASE PER PERSON IS REQUIRED (a $10 surcharge will be added if no entrée is purchased, there are no drink minimums)
All sales are final, but if for any reason show is canceled all purchases will be refunded.
Must be 21 years old to drink alcoholic beverages.
No outside beverages are allowed.
BUY TICKETS