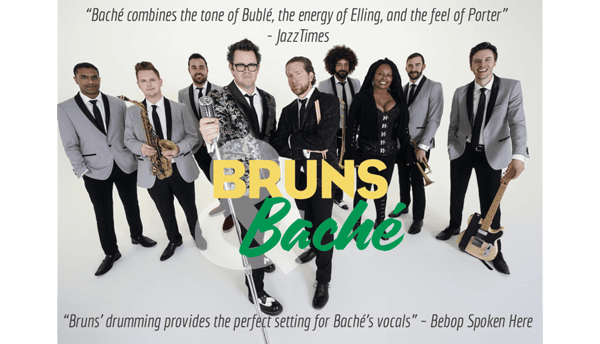 BRUNS & BACHÉ
BRUNS & BACHÉ 9-piece jazz-pop all star band returns to this classy Newport Beach venue after several sold-out shows.

Musicians include:
Lead Vocals - Kevin Baché
Supporting Vocals - Amy Keys
Trumpet - Nathan Kay
Alto Saxophone - Alex Hahn
Trombone - Fabio de Souza
Guitar - Deen Anbar
Bass - Nando Raio
Piano - Jason Goldstein
Drums & Percussion - Jason Lee Bruns
Live Sound - Golden Preciado

8:00pm Show
6:30pm Doors

Ultra VIP section ($35/person tables for 2 or 4)
VIP section ($25/person tables for 2 or 4; $20 single barstool seats)
General Seating section ($15/person tables for 2 or 4; $15 single barstool seats)
Booths for 4 People $160

1 ENTRÉE PURCHASE PER PERSON IS REQUIRED (a $10 surcharge will be added if no entrée is purchased, there are no drink minimums)
All sales are final, but if for any reason show is canceled all purchases will be refunded.
Must be 21 years old to drink alcoholic beverages.
No outside beverages are allowed.
BUY TICKETS