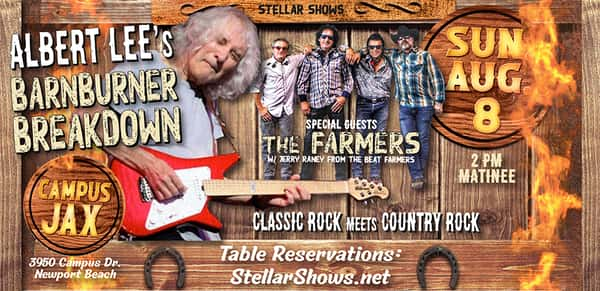 Albert Lee's BarnBurner BreakDown w/The Farmers
Albert Lee's BarnBurner BreakDown
Albert Lee - the Grammy Award-winning British guitarist, multiple recipient of scores of "Best Guitarist" awards and celebrated by fans and musicians over the world - is known to many as both "the guitar player's guitar player" and "Mr. Telecaster."

Lee, who co-wrote the Ricky Skaggs hit "Country Boy," appears at Campus JAX in Newport Beach on Sun. Aug. 8, for a rockin' matinee show from 2-5 pm (1:30 pm door time) dubbed the BarnBurner BreakDown.

A rare sighting of The FARMERS (formerly the Beat Farmers) will take place at 2 pm, as the San Diego-based quartet (sometimes a quintet) joins Albert Lee to open the show.

Who are The Farmers? They sound like Bo Diddly, CCR, Joe South, and the Yardbirds, ham-fisted into a food processor, stuffed into a shotgun shell - and blasted into a beer keg at three in the morning… in Faron Young's rumpus room.

Earth's top guitar god had this to say about Albert Lee: "The ultimate virtuoso. His skill is extraordinary, his ear is extraordinary, and he's gifted on just about every level. When he gets into his stride, I can't even keep up with him." - Eric Clapton
In the early 1970s, Lee achieved guitar hero status with the British country-rock group Heads Hands & Feet, playing his Fender Telecaster at breakneck tempos. Though he's celebrated for his speed and virtuosity on the instrument, he's also held in high regard for his melodicism.

Over the years, Lee has used both Telecasters and Music Man guitars equipped with B-Benders.

Lee's career kicked into high gear in 1974 when he moved to Los Angeles, where he performed session work on albums by Buddy Holly's former group, the Crickets. He subsequently worked with Emmylou Harris's Hot Band, where he replaced his hero, James Burton, and in 1978 began a five-year stint performing with Eric Clapton.

In 1983, Lee reunited the Everly Brothers for a concert and served as musical director. He went on to perform with the duo for more than 20 years.

In the late '80s, Lee began fronting his own band, which over the years has performed with Clapton, Tommy Emmanuel and Willie Nelson, among many others. Lee has also toured with Bill Wyman's Rhythm Kings, performed at the 2002 George Harrison tribute show Concert for George and appeared at the 2007 Crossroads Guitar Festival. His numerous awards include a 2002 Grammy Award for Best Country Instrumental Performance for "Foggy Mountain Breakdown" from the album Earl Scruggs and Friends. He's also notched five consecutive wins for Guitar Player's Best Country Guitarist and in 2017 was honored at the U.K. Americana Awards with the Trailblazer Lifetime Achievement Award.

So no - you don't want to miss THIS!

All ages, free parking, freeway close at John Wayne Airport in Newport Beach.

SUPPER CLUB SHOW POLICIES:
ONE ENTREE/PERSON PURCHASE REQUIRED. IF NO ENTREE IS ORDERED, A $10 SURCHARGE WILL BE ADDED - MEALS START AT $10.
BUY TICKETS