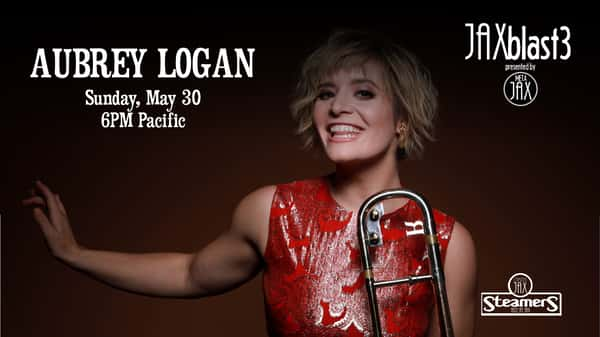 JAXblast3 | Aubrey Logan
JAXblast, the one-of-a-kind Crypto Jazz and Roots Music events that support sustainable careers for exceptional independent artists through limited edition collectibles continue on the stage at Campus JAX as Steamers Jazz at JAX and MetaJAX presents JAXblast3 with global jazz star, Aubrey Logan.

Aubrey will light up the Campus JAX event tent as she defies the gravity of jazz across musical genres with style, incredible skill, and a truckload of fun!

$45/person Ultra VIP Tables for 2 or 4 (first 3 rows)
$35/person VIP Tables for 2 or 4 (middle 4 rows)
$25/person General Seating Tables for 2 or 4 (back 2 rows)

6:00pm-7:30pm Show
5:00pm Doors Open
1 entrée purchase required per person

All sales are final, but if for any reason show is canceled all purchases will be refunded.
Seating is outdoor open air at our special tented outdoor stage dining area.
You can dance, and we are working our way back inside too!
Must be 21 years old to drink alcoholic beverages.
$20 corkage fee on first bottle, $30 on the second bottle $40 and third etc. (750ml = 1 bottle).
No other outside beverages are allowed.
If you are disruptive or do not wish to follow our protocols, you will be asked to leave. Please help us stay open and let's keep everyone safe!
BUY TICKETS